"A great event to meet other tech companies in a fun way that brought out everyone's competitiveness" — Blair Giessen of PopChatr
The first ever Tech Foosball was a blast! The formula was simple: beer on tap from San Diego's Mission Brewery, a wide range of munchies, a regulation foosball table, and a bunch of great people from San Diego's tech industry. Hosted on a Friday night, the event lasted just under 4 hours, but the connections and friendships created have lasted on.
Tech Foosball Tournament Breakdown
Sixteen teams participated which represented a wide range of internet technology present in San Diego. Each team was seeded into a NCAA style tournament bracket. Rules as followed: Single elimination, no spinning, any goal counts, first to five goals wins ends a game, and best of three games moves on. Each match last roughly 10 minutes. We used a PA system for announcements and an iPhone to broadcast the game at table level to an Apple TV projected on the wall.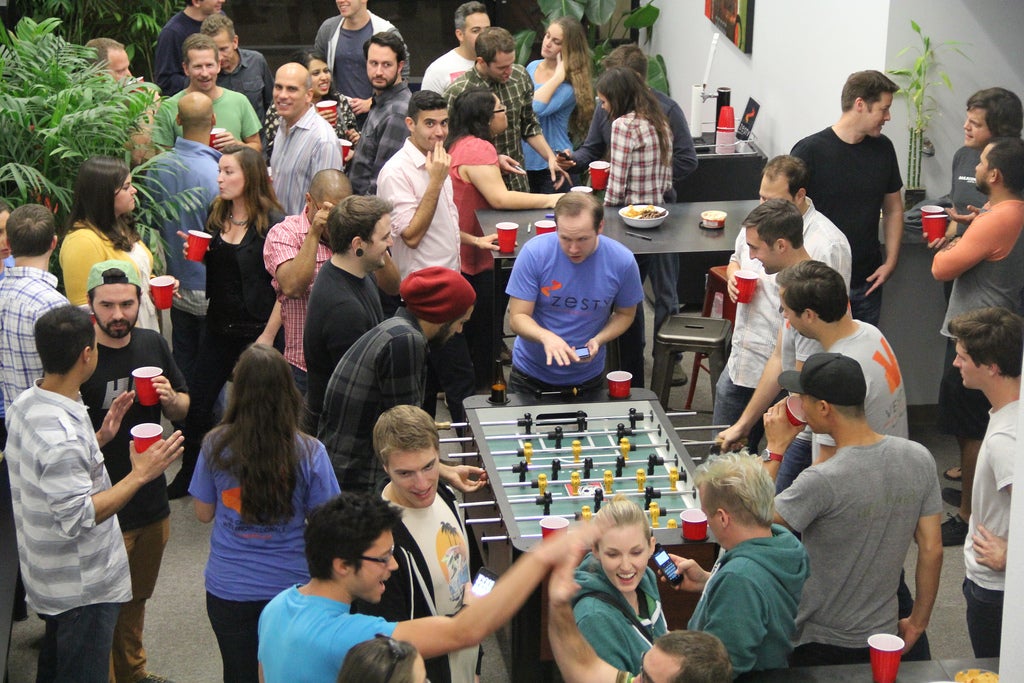 Each team laughed, cried, yelled, and fought valiantly. Teams were very competitive, but not without sportsmanship and great spirit. As teams waited, they had time to meet another, which made it a fun natural networking event. Here is a summary of some of the companies represented on the table: UberFood, a seasonal organic to your door food service. TinyFactory, creators of Brandisty. EFM, a full service agency downtown with clients like Mirage, Sony, and Qualcomm. PopChatr, an app that is like twitter for audio. Sweet Labs, an application distribution service. Monk Dev, a CMS for churches. AirBitz, a bitcoin wallet. GrowConnections, business networking automation. Slacker Radio, free online radio. Digithrive, web and mobile application developers. Zesty, a cloud based website platform. Vestidd, an info organizer and sharing tool for parents with special needs children.
The Finals Were Intense
Aaron of Slacker Radio with Mike of EFM were a sleeper match up that played some serious games to end up in the finals against Etienne & Beau from Monk Dev. To move onto the finals Etienne and Beau defaulted a win against Travis Fawcett of Pathway Genomics & Phelan of Digithrive due to time constraints. The finals came down to the last goal of the third game. Monk Dev walked away with all the swag, and they were left speechless!
Tech Foosball is here to stay in 2014
Due to popular demand, Tech Foosball will be back on a regular schedule! We are looking at holding a monthly tournament between tech companies that have a regulation foosball table on site and an office that can hold at least 60 people. We currently have three companies in the rotation to hold the event: Variable Action, MonkDev, and tentatively Sweet Labs. Variable Action's Zesty will be providing beer on tap, and hosts will be responsible for game munchies. We are looking to create a league with registered teams, bracket seeding, and a regular schedule. Stay tuned for more details on the league. If any company is interested in helping sponsor the event, please contact us.
Details for the next Tech Foosball
When: Friday January 10th at 6pm
Where: Monk Dev (Old Towne San Diego)
Hashtag: #techfoosball
Info: San Diego Tech Events Meetup page

Press Details
Contact Randy Apuzzo (rapuzzo@variableaction.com) for more information or questions. View a collection of high quality photos of the event on Variable Action's Flickr Page. Hashtags used were #techfoosball #sdtech #foosball