My childhood dream was to work in a cool office, as the idea of cubicles scare the hell out of me. Imagining a labyrinth of fuzzy walls with humans trapped in them feels more like a nightmare then a place to work. In Little Italy our office was my personal work loft, it was a three story architectural masterpiece with street level access and a 3rd floor patio. When your team grows to 5, living where you work gets tough for all parties.
We decided to move in December 2011 with the Barrio, deep Little Italy, and East Village in mind. After being frustrated with craigslist searches we started working with Jordan Williams on locking down a new space. Being novices to commercial real estate, this was one of the best moves we made. During sourcing and negotiations for a place, our neighbors and local startup Tiny Factory (creators of Brandisty) put us up in their space for 3 months, which was immensely helpful! We landed at 1045 6th ave (across from House of Blues downtown and next door to Tiny Factory). This is the story of our buildout.
Building with a Local Designer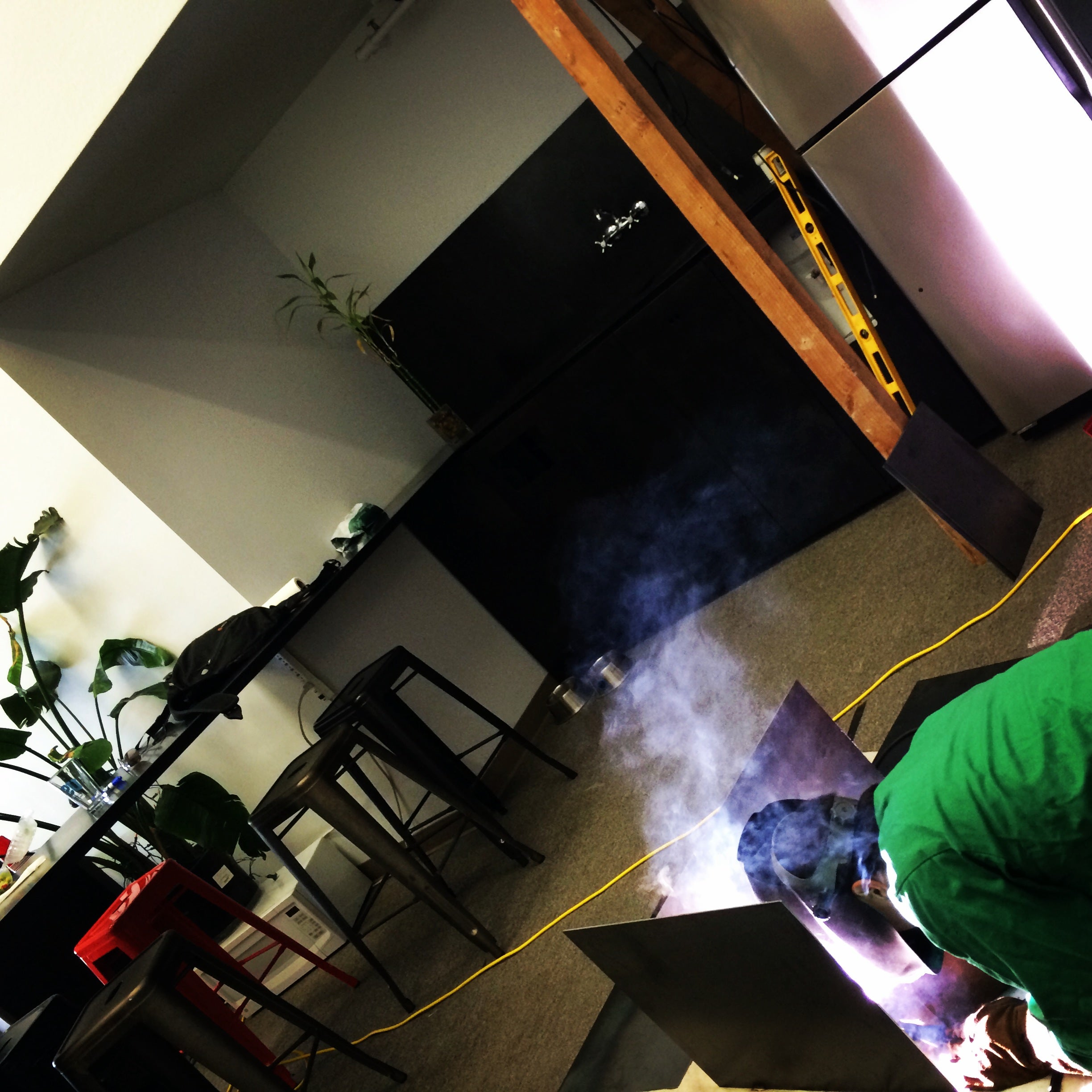 A couple weeks after moving in, our neighbor Alex Rolek (of Tiny Factory) introduced me to Dominique Houriet. Dominique wanted a kick-ass website for his design build firm, and we needed a kitchen. Within a couple weeks we moved forward on a handshake and each of us started designing. The result on our end was a fully dynamic www.oo-d-a.com, and he delivered a CAD layout of the whole front of the office designed with mild steel and reclaimed wood.
Dominique had the first long arm (to the left in the photo) of the bar complete one week before the public launch of Zesty on November 25th 2012. Later a hand crafted metal sink (the faucet on center in the photo) was installed; finally we had running water to make coffee! In the past year another arm of the bar was created along with a facade and shelving. Dominique Houriet is a great guy who runs the talented [oo-d-a], which designs mid-rise building, custom houses, and restaurant build outs. Here is a video of him live welding our office!
Beer, The Social Ingredient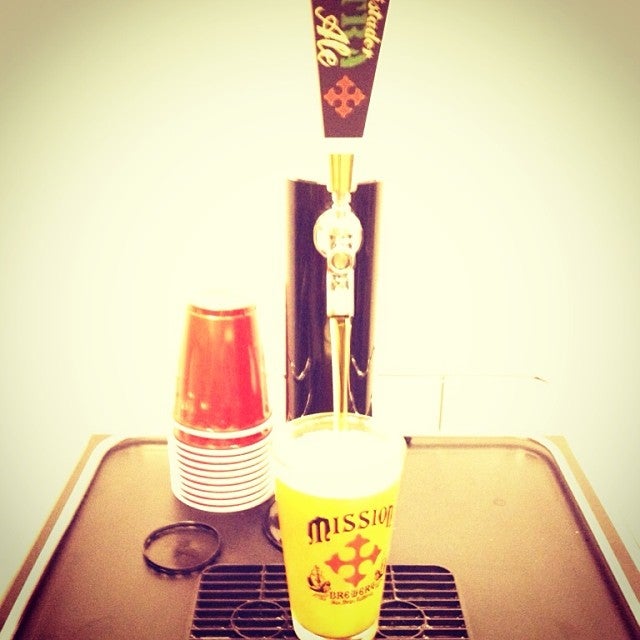 Not long after, Dominique started on the bar we made a partnership with Mission Brewery, a local San Diego microbrewery. We buildout a website design they had into a Zesty website that could be reliably edited by Missions Brewery staff. This meant Mission liquid gold would flow at all times at Bar Zesty. Mission beer is delicious, and they are right by the ball park in downtown San Diego so pop into their tasting room for a beer!
Events, Events, Events, and The Legend of Tech Foosball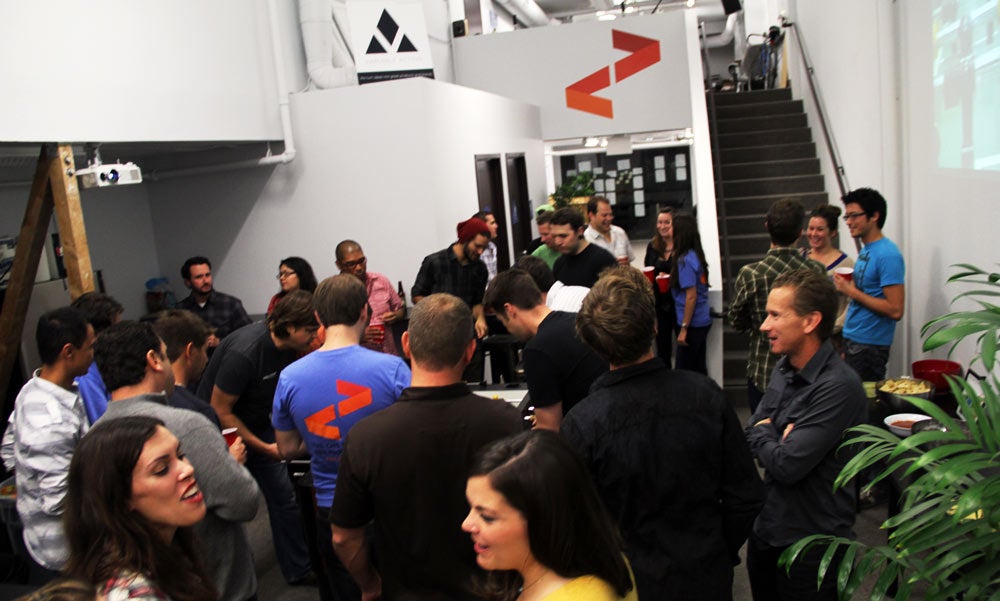 When we moved into the office we were loaned a foosball table from a friend that plays professional poker. That table has a storied history to it, from Pacific Beach parties to the infamous tech foosball. Tech foosball is one of many events we host at the office. Private parties, PHP forums, Agency Mediation, Autism awareness, and even a Bitcoin meetup; the list will continue to grow. One thing we can do as a poor startup is offer our space to the community, it always feels good to do so.
Open Bar Fridays!!!
Starting this week (May 9th 2014) we will be opening Bar Zesty up to our community. From 4-6pm come have a beer on tap, filtered water, or coffee while you hang at the bar and talk about whatever you want. We will keep this open every Friday (except holidays). It's intent is to have San Diego's tech community come together in a relaxed environment to talk shop, community, events, or anything really. Hook up the projector and connect to the internet. Don't want to talk shop, great! we have foosball and other games to escape from our stressful weeks. Bring your own munchies :)
Tech Office Space
Space recently opened up in our office and we are looking for a tech company to take it over. It's an open space (roughly 1000sqft) with two 8x4 ft white boards, a mini-fridge, configurable desks, and two parking spots. We are asking $1500/month, tweet @variableaction to come by and check it out.